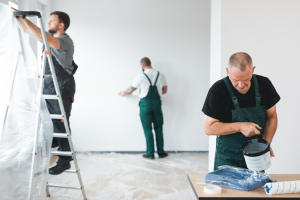 Choosing a house painting company can be challenging; if you've opened up a phonebook or done an internet search to look for one recently, you might've felt overwhelmed by the long list of options. However, one thing you should keep in mind throughout your query is that a legitimate painting company will always yield more impressive results coupled with less stress on your end. Keep reading to learn a little more about the immeasurable value of selecting a trustworthy painting company that's both licensed and insured; you'll be glad you did when you behold your astonishing results!
Licensed Painters Maintain Certain Standards
In order to be licensed, a painting company needs to maintain certain industry standards involving things like training and quality control. These standards aren't always cheap to maintain, and regularly updating procedures and continuing training means that these painters must charge more compared to those without licensing. However, these industry standards aren't something to brush off; they ultimately protect homeowners and painters alike from disagreements or turbulence, while ensuring that all parties are happy with the project's outcome.
You'll Avoid Several Unnecessary Risks
There are several notable risks involved when hiring a painting company that lacks licensing or insurance, including:
If the work isn't finished to your satisfaction, you won't have the legal footing to seek redress.
If a worker is injured on your property, as the homeowner, you might end up being liable.
If a painter or the paint itself causes damage to you, a family member, or your property, you might be left without protection.
Your Investment Is Reflected in Your Results
It's true that when you hire an unlicensed or uninsured painter, you'll likely receive a much lower and often enticing estimate. This is because unlicensed painters generally carry lower overhead costs; since they lack things like liability insurance or workers' compensation, the savings are carried over to the homeowner. However, as tempting as it might be to try to save some money on your project, you might end up having to spend that money anyway later on if the job isn't completely satisfactory. A licensed painting company can justify the prices they charge by providing unrivaled results.
Any reputable painting company knows that a responsible homeowner is going to do their research, and they'll be happy to accommodate you and show you their proof of licensing and insurance. By taking the time to see this through, you're ultimately ensuring that your painting project is left in the hands of skilled professionals who'll do things the right way.
About Platinum Painting
For over 15 years, Platinum Painting has assisted hundreds of homeowners across the DFW metroplex with all kinds of interior and exterior painting projects. Their talented team prides itself on their knowledge, experience, and dedication to professionalism which is always manifested in beautiful and satisfactory results. If you have any questions about the blog or you need assistance with your next project, please contact the Platinum Painting team to get started.