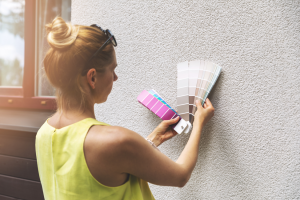 If you've ever walked into a home center or paint store with the goal in mind of buying a can of paint, you might've quickly discovered that there are quite a few different types of paint out there—and needless to say, this may make your pending decision a little tough. But you should never feel like buying a can of paint is an impossible task! Here are a few things to keep in mind to help you confidently commit to the right type of paint, no matter what your upcoming painting project is.
1. Choose the Best Color for Your Project
Among all of the colors of paint available, did you know that whites and off-whites are the top sellers for interior painting? And when it comes to exterior projects, neutral and earthy palettes continue to be widely used. That said, these days other colors such as blues and grays are seeing more use both indoors and outdoors. No matter your preferences or needs, lock in your preferred color scheme early on and take advantage of samples and test sticks.
Remember, colors tend to intensify over large areas, so it never hurts to go lighter than darker if you're working with a large wall or surface. It's also worth noting that many stores now offer online shopping, as well as the means to upload a photo of your room or space with the intent of digitally applying different colors to help you gain a sense of what looks best.
2. Find the Perfect Formula
Color isn't everything when it comes to painting; you must also consider your practical needs; even the most beautiful shade will disappoint if the formula is mediocre, and you might end up with lackluster or fleeting results. It's also worth noting that certain paints are more resistant to wear and tear, scuffing, and the impact of the natural elements.
Additionally, higher-gloss paints resist staining well and are easier to clean, while lower-gloss paints can hide minor flaws since they absorb more light than they reflect. Do you want your paint to look smooth once it's applied, hide the wall's previous coat, and resist fading and remain vibrant over time? If so, be mindful of the paint formula being used and don't settle for cheaper paint.
3. Consider How Much You'll Need
This might seem obvious, but it's something that you'll want to carefully consider before the painting process. It's simply not feasible to try to guess how much paint you'll need, so don't make the mistake of trying to wing it. Most brands sell paint by the gallon, and one of these cans generally offers 350 to 400 square feet of coverage when applied correctly. Be sure to measure the dimensions of every room or wall you're planning to paint and use those numbers to calculate how much paint you'll need. Note that measuring for exterior painting often includes additional measuring and calculating.
In any and all cases, a skilled team of professional painters can assist you with selecting the correct paint for your project, and they offer the highest quality projects and services around. Whether you're planning to paint the exterior or your home or give its interior a new look, choosing the best paint will ensure that you have no doubts about your pending results and your abode is an unrivaled source of joy in your life!
About Platinum Painting
For the last 15 years, our talented team here at Platinum Painting has assisted countless homeowners across the DFW metroplex with a wide variety of painting projects, and they'd be thrilled to help you with your next undertaking! If you have any questions about the blog or you'd like to get in touch with us to set up a free estimate, don't hesitate to contact us today!